Super Sandwiches contribute to Perfect Picnic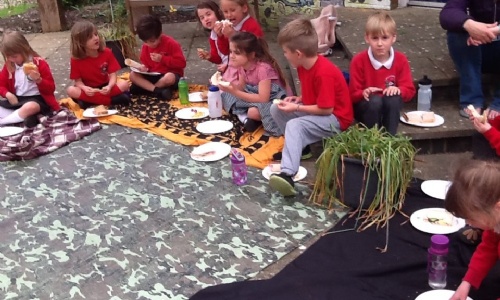 The children did a great job of preparing (-and eating!) the sandwiches that they had planned and designed this week. They also made some juicy jellies and fabulous fruit kebabs. (I did say we had been practising alliteration in Y1 last week didn't I?). Thank you also for the tasty and healthy looking contributions that were brought in - delicious. If you would like to see the results please see the photo album on this site.
Our literacy this week has focused on sequencing events, using time related vocabulary (eg. first, next, after that, . . . ), listening to and following instructions. All children have impressed us with their reading of instructions and have been picking out the bossy words or verbs that are used. After Mrs Bockle had been in on Wednesday to recap on how to wash hands, to benefit those children who had missed the first workshop, the children helped me write simple instructions for the Y2s to follow and posters to remind them of the importance of washing hands. (TImely advice before all their food prep!). Today they had a go at writing instructions to make jelly and next week we hope they can write down their own recipes for the splendid sandwiches they created.
The other purpose of this picnic project was to give children an awareness of where their food comes from eg. cheese comes from milk which comes from cows, ham comes from pigs, fruit is picked from plants. When I asked who had plants in their sandwich, Cadi quite rightly reminded us everybody had plants in their sandwich because everybody had used some kind of bread which is made with flour which comes from wheat which is grown on farms. They have been trying out some of the activivties on the "Food a fact of life" website. They have also been considering which foods are healthy for you and which are not so healthy. If you want to discuss this further with them there is information on the 'Balanced Plate' on that same website.
In Science they have been looking at the life cycle of plants - in particular sunflowers and the sunflower seeds they have planted are beginning to grow. So much so that they will need repotting before too long so their roots have room to grow. Their second attempt at cress has been more successful with roots and shoots beginning to appear.
Maths this week has focussed on addition and subtraction and the children have been presesnted with problems to solve in which they have to apply the number facts they already know or are beginning to learn, in particular number bonds to 10 and 20. If your child is not confident remembering their number bonds to 20 try getting 20 objects together at home and splitting them into two different groups - how many different ways can you do it? When you write them down hopefully they will begin to see the connection between the number bonds to 10 and the number bonds to 20. For more of a challenge we have been looking at different ways of making numbers up to 30 and encouraging the children to be systematic in their approach and again applying what they know and using numberlines, Numicon and multilink or other counting apparatus to help when necessary.
Thank you to all those of you who have returned your slips and payment for Marwell already. I hope to finalise groupings and helpers next Wednesday so hope to have them all in by then.