Y1 Sharks scoop Silver at the hockey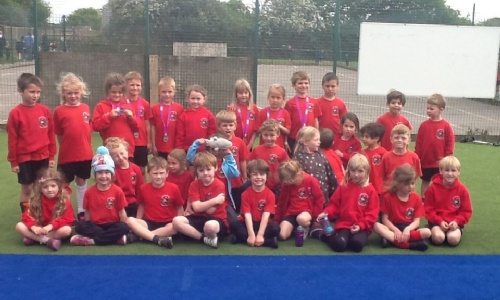 Y1 (and the YRs who joined us) did really well at the Quicksticks hockey tournament this afternoon at Hordle. They all tried their best drawing on the skills they have learned and practised in their weekly hockey sessions. They worked well in their teams and although Friday afternoon fatigue got the better of some they can all be proud of what they achieved. Congratulations to Mia, James, Henry, Max, Phoebe and Maisie whose team came Silver overall - an impressive achievement considering most of the other teams included Year 2s. Thank you to Mr. Pepin for all his hard work arranging for us all to go this week and getting everyone ready with our weekly hockey. Thank you also to all the parents who came to help give lifts and support teams.
Y1 classroom doesn't seem to be a great habitat for growing plants we have learned these last few weeks. If your child's sunflower managed to make it home in one piece then they were one of the lucky ones. Fortunately I found some more sunflower seeds at home and together we have written some instructions outlining the ideal growing conditions for a sunflower seed. These should have come home today. Better luck with these ones! Our art for the rest of the half term is all about sunflowers and famous artists who painted them. We also have the Sunflower Cafe as our role play.
I realise not all seeds have come home and nor have all the children's belongings following on from the Hockey. I went through all the lockers after school with Bethany to look for her missing school shoe and Lucius' missing trainers. Found lots of things but not the missing footwear. Please could you check the PE kits and school bags that came home to make sure they haven't got mixed up.
I looked through the reply slips for Marwell and we are still missing a few. Please could you return if you haven't done so and if you tick the box to say you are going to pay online don't forget to do so. At the moment I have more parent helpers than needed. Although it is better to have more than not enough it does mean that I can't afford to take you all. If you volunteered but don't really mind if you come or not please let me know.