Amazing end to a great year with our Super Sharks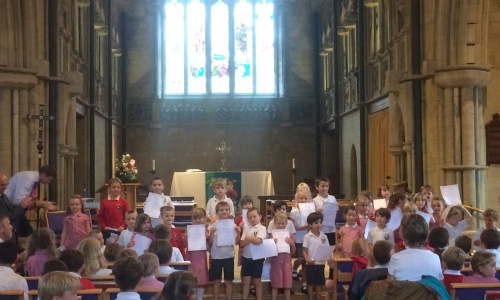 Although it's always a relief to get to the Summer holidays we were so sorry to say Goodbye to such a great group of children. Here they are collecting their certrificates at Wednesday's achievement service in church. They really are a credit to you and we've had such a lovely year with them all. Thank you for all your support throughout the year and many thanks from all of us for all the thoughtful presents and cards.
But just when we thought it was all over we had one more exciting surprise on Friday afternoon. Hadley had disappeared for an appointment with his physiotherapist and when he came back in the classroom he arrived on his own two feet! We were all so impressed to see him walking all by himself using his special walking frame. What an achievement. Hadley hopes to use it more in Year 2.
When the children came up for the morning to visit us this time last year they each chose a fish to cut out and colour and on that fish they had to write their wish for Year 1. We went through these on Friday and it seemed that all the wishes had come true in one way or another.
Knowing how much all your children love their sport I have asked them if they can continue to set up the Quicksticks hockey for us each week as they have done so ably this year so that the next Y1s and our new YRs can learn from their expertise.
They also love their arts and craft activities and should have brought home their art sketch books and their very own sharks to keep.
The word clouds they were each given were created by the other children in the class and ourselves to sum up what they thought of when they thought of that child. I hope they are very proud of them.
If you do find any more reading books or library books at home over the summer keep hold of them and return them in Y2, we don't need to keep the reading records though.
Enjoy your holidays, it sounds like you have lots of exciting things planned! And if you do go to the New Forest Show don't forget to look out for the Y1 flower boat.