Year 1 - Week 4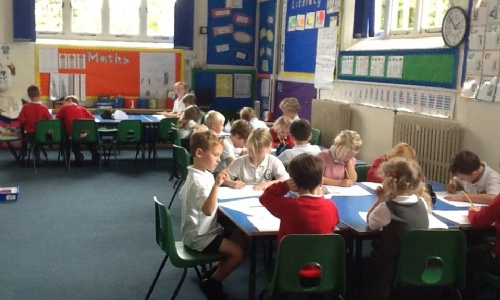 I would like to day a huge thank you for all of the generous donations from year 1 for the Harvest service today – they are much appreciated. I would also like to thank all of the Grandparents who came and spent the morning with us. It was great to see so many of you.
This week we have started a new journey in English and we are looking at 'The Queens Hat'. We haven't yet read the book, but have been making some excellent predictions based on the front cover and the title. The children are keen to find out whether their predictions were close! In maths this week we have been extremely busy looking at 2D shapes and money. The children have enjoyed exploring and getting to grips with these through the use concrete objects.
In science we have set up a cress seed experiment to prove Pirate Pete wrong – he thinks plants only need water to grow. We have placed pots of cress in different conditions and will be keeping a close eye on them over the coming weeks.
The children have today home with 5 spellings. We are working through the common exception words for year 1 and all children have been given the same set of words. We will have a spelling test on a Wednesday and then I will send home the next set of words.
I hope you all have a great weekend.