Year 1 - Week 7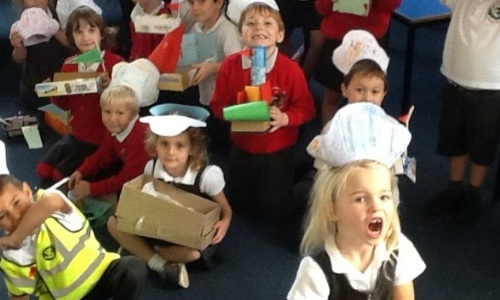 We have reached the end of the first half term – and what a busy week we have had!
In English, we have written our own versions of 'The Queens Hat'. We have used a similar structure to the book and included the places we visited on our recent local walk. The children have used their plans to help inform their writing and we have spent time reading our work aloud and checking it makes sense. The stories have now published by the children and they have produced some brilliant books with lovely illustrations.
In maths, we have been focussing on number and place value. We have been using lots of equipment to help us with our problem solving and I have been really impressed with all children's perseverance, even when they have found something tricky.
This week has been very busy and exciting for a number of reasons! On Monday, we had a special visitor who came to tell us a little bit more about sharks. We have found out lots of interesting facts about sharks and made a fact file as a class. The children loved looking at the real sharks tooth and meeting the cuddly shark that came in too! We also found out how we can help to make sure the ocean is a cleaner, safer place for sharks and other animals too.
On Thursday it was great to see everyone dressed so brightly! The children have been discussing how we can stay safe, especially as the evenings get darker. On Thursday we found about all about Diwali, the Hindu festival of lights. We have created Diva lamps using clay and Rangoli patterns using laptops, chalks and colouring pencils. The afternoon was spent in the hall with year 2 and year R learning a dance to 'Jai Ho'. The candles were then lit and each class walked through the lit passageway. A great way to end a fantastic day!
We have today finished our 'Pirate' topic and all children made a pirate ship! All children enjoyed the afternoon and worked hard creating their pirate ships. They also had some brilliant ideas of little things they could add – like a treasure chest and crow's nest. Thank you very much for sending in all of the boxes for us to use.
The feedback so far about Mathletics has been very positive which is great. I am so pleased the children are enjoying completing the tasks and then earning lots of points through the games. New challenges have been set and are ready for completion.
As it is half term I have not sent out any new spellings.
I hope you all have a wonderful half term and I look forward to seeing you on Tuesday 31st October.
Miss Blick