Year 1 - 09.02.18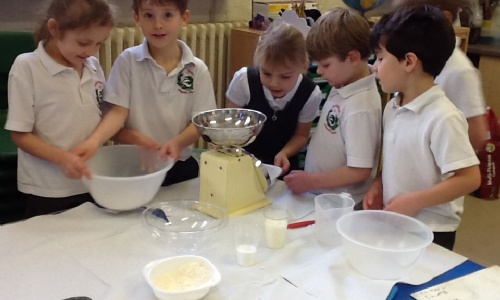 This week got off to a great start, with cake making! The children worked in teams of 6 to weigh out all of the ingredients to make the cake mix. They worked really well together, making sure that everyone had a turn. I would like to say a huge thank you to Mrs Rosser and Miss Lamb who helped us on the day - all of the parent help is so much appreciated! I have attached some pictures of the experience.
We have continued measurement throughout the week in maths. We have had lots of practical experience of measuring and record weight and length. The week has ended with the children completing problem solving challenges, linked to this weeks topic. They are really persevering when working through the problems.
In English we have finished our 'Way Back Home' unit. The children have planned and written some diary entries from the point of view of the martian. They have had some great ideas of what the martian could do on the moon and worked very well independently writing their diary entries.
The Winter Olympics arrived in Brockenhurst this week! The children took part in a range of different activities, in their house teams. The children really enjoy having the opportunity to work together and work through challenged, especially if it involves PE! Attached are some photos of the afternoon.
I hope you all have a lovely half term break.
Miss Blick