Yr 2 - Week 4 27th January 2017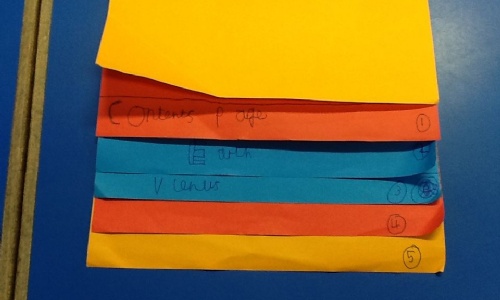 This past week we have been working on the following:
English:
We have started to write up our own non-fiction space book. We have created the books in a rainbow style and have sought to include different chapters around the areas of space that interest us the most.
We have been using our best handwriting, remembering finger spaces, capital letters and full stops.
To support your child your child with these essential ingredients to writing, you could ask your child to write a sentence that you dictate to them and reinforce that these elements are in the sentences. Think about including some of the High Frequency words!
Maths:
We looked at adding and subtracting again this week. We have looked at adding one digit numbers and one digit numbers and using our number bonds to bridge 10. We have also looked at rounding up and rounding down up 9 and 11 numbers to 10 so make adding large numbers more easily and then adding or subtracting 1 at the end.
Please can you reinforce number bonds (up to the next 10's number) verbally with your child as this is a huge help when adding up 2 digit numbers. Once this is secure, move on to do this with number bonds to 100 ( 20 + 80)
Thank you
Miss Ashness and Mrs Hudson