Yr 2 - Week 5 3rd February 2017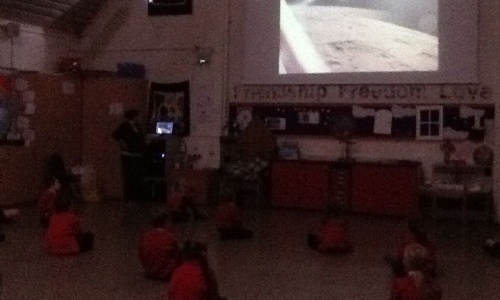 This past week we have been working on the following:
English:
We have begun looking at the book "The Man on the Moon". We began by writing a letter to Bob after seeing a picture of him. We asked him questions about his life and he kindly sent us his book, telling us about his life on the Moon. We had the opportunity to visit the Moon and walk around it on Thursday! We wrote a postcard detailing our adventures.
If you would like to support your child, why not ask them to write a short letter to a friend or relative telling them all about their week at school! If they ask questions of the person they may even get a reply!!!
Maths:
We looked at addition and subtraction with reference to problem solving this week. This has been hard as it has involved two-step problems, i.e. buying two items in a shop (adding up the cost of these items) and calculating the change.
Please can you reinforce number bonds (up to the next 10's number) verbally with your child as this is a huge help when adding up 2 digit numbers. Once this is secure, move on to do this with number bonds to 100 (20 + 80)
Have a great weekend
Thank you
Miss Ashness and Mrs Hudson