Year 2 - Week 7 - 20.10.17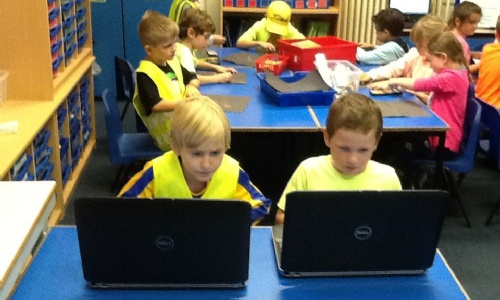 Autumn 1 has come to a close!
This past week we have been working on the following:
English:
This week we have written our stories based on 'The Lonely Beast'. We tried to follow the same structure and included lots of detail to make them interesting to the reader. We looked in particular at different verbs and expanded noun phrases.
To support your child you may want to create a story based on one that you are reading at home or one you know well. Have a look at the different verbs in stories that you read and talk about why some may be better than others.
Maths:
We have started looking at multiplication this week. Focussing on the 2 times table, we have been using multilink to group numbers into 2s and using repeated addition to support our times tables.
To support your child at home, it would be useful to have a look at using repeated addition for the 5 and 10 times tables, getting your child/ren to draw the groups as they work out the sums.
Other news:
In other news, we had a fabulous day on Thursday learning about the festival of Diwali. We created clay lamps and made Rangoli patterns using the computer, chalks and colouring pencils. The day drew to a close with an energetic PE dance session in the hall, in which we learnt the dance moves to 'Jai Ho', and a beautiful moment when we lit all our candles and walked through a lit up passageway as a class. It was a truly magical day.
As always, please read with your child as much as possible and keep practising those spellings.
Have a lovely half term. We look forward to seeing you on Tuesday 31st, refreshed and ready to go.
Miss Ashness