Year 3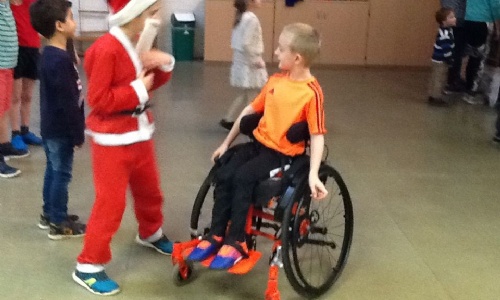 Christmas came to Turtle class this week with our final book for the year, Coming Home by Michael Morpurgo. The children have loved this story of a robin making an epic journey back to his mate in time for Christmas.
Despite the very wet weather we have still tried to get outside for PE and to run our Golden Mile.
Our week ended on Friday with our Sponsored Dance-a-thon. The children threw themselves into it with such enthusiasm. Some of them were able to have a go in a wheelchair, which was of course why we were dancing. A huge thank you to you all. We raised over £200! This takes us very close to our target to enable us to buy a wheelchair so that Hadley can have a wheelchair buddy in school. A huge thank you to Sarah Howes and Sarah and Martyn Brisdion who were our DJs and dance co-ordinators for the afternoon. If you still have sponsor money please bring it into school as soon as possible.
On Monday we will be finishing our RE topic on Hannukah with a visit to the bakers to buy a doughnut. Please send your child to school with £1 in a purse or named envelope. We will enjoy our doughnuts as part of our Hannukah celebration in the afternoon.