Yr 4 - 24th November 2017 - Week 4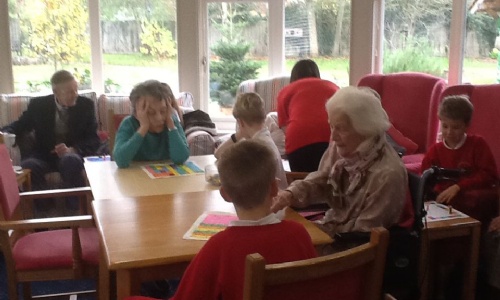 We have had a good week.
Maths
We have looked at fractions and decimals this week. We have been working on fractions of numbers and trying to recognise the link to division. We have also looked at decimals and rounding up the nearest whole number.
We have also began to look at multiplying by 10 and 100 and recognising that aswell as a adding an zero to the number it effects the place value of the number.
We practised our problem solving skills by working in pairs on a fraction problem.
English
We have begun to read our new book Mouse, bird, snake, wolf. The children are enjoying the book and have been focusing on the power of language and describing characters.
Woodpeckers
We had another great visit to the care home and I am extremely proud of the children and how kind, polite and friendly they are. The children enjoyed playing snakes and ladders with the residents. (see the picture above).
If you have any questions please do come and see me.
Have a good weekend.
Mrs Hudson