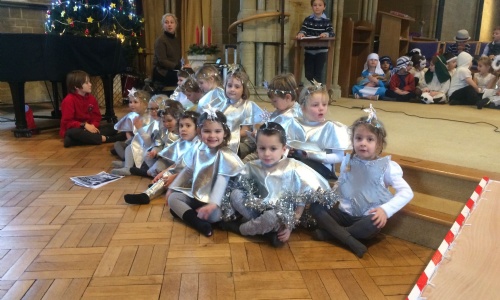 Our Super Star YRs!
Published 14/12/17, by Ruth Stack
We were so proud of all the children's efforts in the Nativity performances this week, they really gave it their all. For some it was being brave enough to stand in front of so many people and for others the opportunity to sing their hearts out and show off their dance moves. They did so well to remember so many songs and actions and do it all with such enthusiasm - and smiles! We have received many compliments about their performance. We would love to see a video of it if any one has one they could share with us. It's difficult to get photos when you're in the midst of it all.
Thank you once again for all your support with providing costumes and helping get the children to and from church. We couldn't do it without your help. One of the parents asked if she could donate her star costume as she was unlikely to need it again. If any of you wish to do this you are welcome to give us the costumes to store for those who might need them next year - and in the unlikely event that they are a star again you can always have it back.
Read More